Building the Future at 75 Fennell Street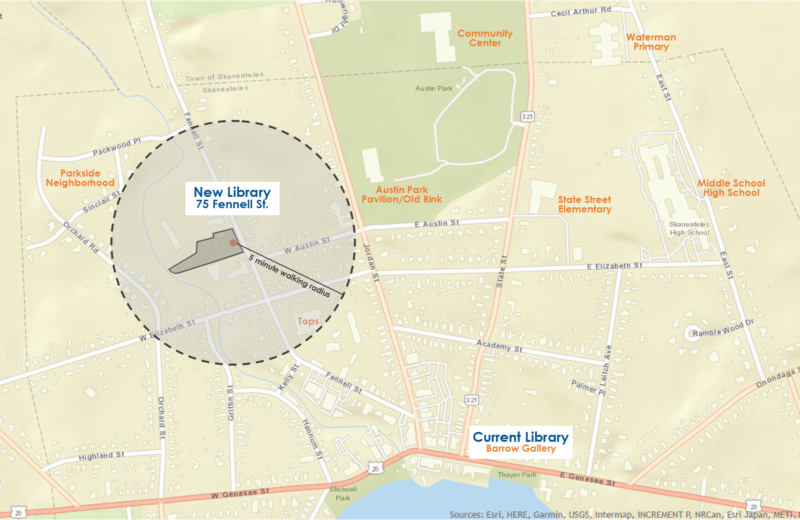 We're building a new library at 75 Fennell Street! The 2.14-acre site was purchased on October 31, 2022 from the Town of Skaneateles.
On October 13, 2020, library trustees voted to pursue the property at 75 Fennell Street following a recommendation from the Site Selection Committee based on the committee's thorough and diligent evaluation of nearly 20 properties in the Skaneateles area. The evaluation process took more than a year and was based on a number of criteria, including neighborhood context, zoning considerations, and accessibility for all 9,000 school district residents.
Building a new library at the Fennell Street location will keep it connected to the local commercial corridor and walkable for those within the village limits while allowing for much desired dedicated parking for all library users. Although the site and building design have not yet begun, the board looks forward to creating a flexible, accessible, welcoming space and beautifying this piece of the village along Skaneateles Creek.
Site Evaluation Process
All potential sites were evaluated by the following criteria, which were developed based on community input, the Library Space Needs Assessment completed in May 2017 and libraries in comparable communities.
Neighborhood Context
Synergies with other cultural, civic, retail, and residential neighbors:

Zoning and type of use; library use consistent with other surrounding uses (civic, educational, etc.)
Mutually-beneficial occupancies (functions of neighboring organizations are complementary to library functions and vice versa)
Shared destination (sustainable strategy wherein people can park in one place and access multiple locations)

Central location within the service area (both by population and geography)
Traffic and safety considerations
Site Considerations
Initial building size (supports a building of at least 16,000 square feet with accompanying parking, stormwater retention, etc.)
Desirable shape (shape of the site is uniform/doesn't force odd or expensive building and related systems location/design)
Room for possible future expansion
Ease of construction (size and location of the site allow for reasonably affordable and easy construction, including parking and access for construction vehicles)
Likelihood of existing hazardous materials contamination in need of remediation
Accessibility
Easy drop off/delivery (for patrons, daily book deliveries, and vendors)
Pedestrian access
Car access/on-site parking
On-site drive-thru book return (either into building or dropbox)
Off-site parking for overflow available close by
Character/Amenities/Other
Usable outdoor space (comfortable space for individual and program use, including noise level)
Views and natural areas
---
Have questions? Want to share a great idea? Contact the Skaneateles Library Board of Trustees at feedback@skanlibrary.org.