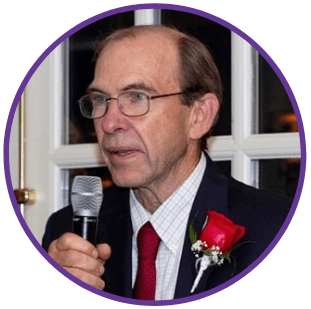 Dave Lee
---
Dave joined the library board in 2007.
Professional Experience: Dave has been in the construction business for more than 50 years and was the owner of David B. Lee & Company, Inc before his recent retirement. Great craftsmanship and attention to detail made his general contracting business successful and garnered him high praise from his Skaneateles clients.
Community: Not one to stay idle, Dave currently serves on the Town Zoning Board and as President of the Evening Rotary Club. He joined the Fire Department at 18 and served as an active member for 25 years. He is also one of the longest-serving Library Board members. Due to his skill set, Dave has become the de facto caretaker of the 1890's library building with all its eccentricities. For the many contributions he has made to so many people and organizations in this community, he was honored as one of the Skaneateles Citizens of the Year in 2019.
Fun Facts: Dave and his wife Anne live on the farm that has been in the Lee family since the 1860s. They have four grown children and are now happily enjoying their role as grandparents. Dave enjoys skiing, cycling, flying airplanes and making his own maple syrup and hard cider. He supported the ALS Therapy Development Institute by fundraising and biking the 270-mile Tri-State Trek in 2019 and the modified Trek in 2020. He's also taken more than 200 youngsters for their first experience flying in a small plane through the Young Eagles Program!