About the Board
The board of trustees is composed of community members who volunteer their time and skills to ensure the future of the library. The main functions of the board are to set library policies and maintain the financial health of the organization.
Each trustee offers their talents and experience by serving on committees that carry out our strategic goals and initiatives.
These committees and their members are listed here.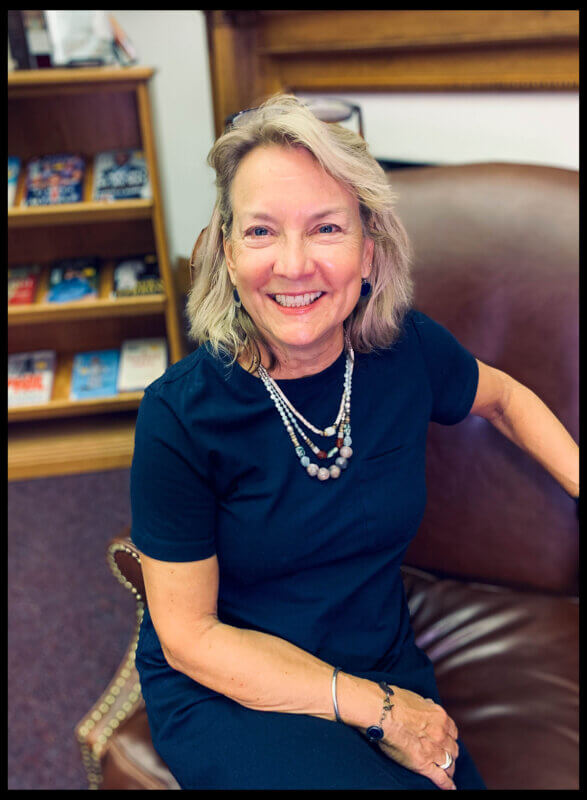 Susanne Guske
President
Current Building Chair
Susanne Guske's Bio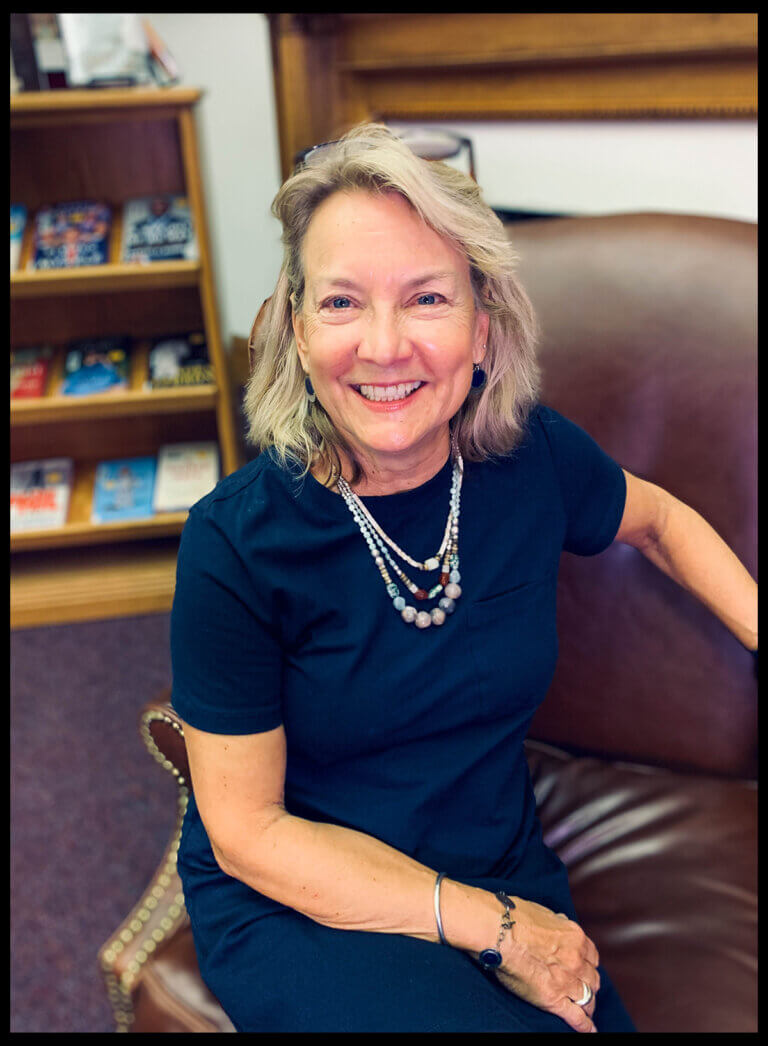 Susanne Guske
Susanne joined the library board in 2018.
Susanne worked with Fortune 100 companies as a program manager in the defense industry, and held management and staff positions in manufacturing operations, international supply chain integration, contracts, corporate and business unit strategy, and systems implementation at companies such as Allied Signal, Lucas Aerospace, and Xerox. She has a history of success with major change efforts and has also consulted for small technology start-ups. A Skaneateles resident for over 20 years, Susanne has served as treasurer or president of all three school PTCs, president of the Music Guild, a board member of SkARTS, Splash!, organized many school co-curricular events, and remains a founding member of the school district's Finance Advisory Committee. Susanne is currently president of the library board.
Fun facts: Susanne is a native German speaker, received a full scholarship to study classical ballet, and is currently learning to sail. She met her husband in an MBA program's "Mathematics for Managers" class where, as a former engineer, he ruined the class curve. She has raised two children, two dogs, two guinea pigs, and way too many tropical fish while renovating an 1880s Victorian.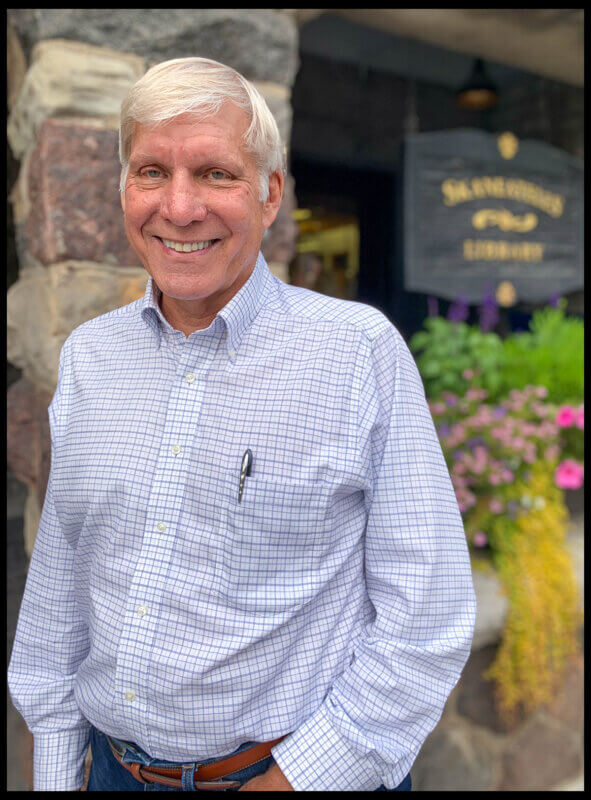 Dave Hempson
Vice President
New Building Co-Chair
Dave Hempson's Bio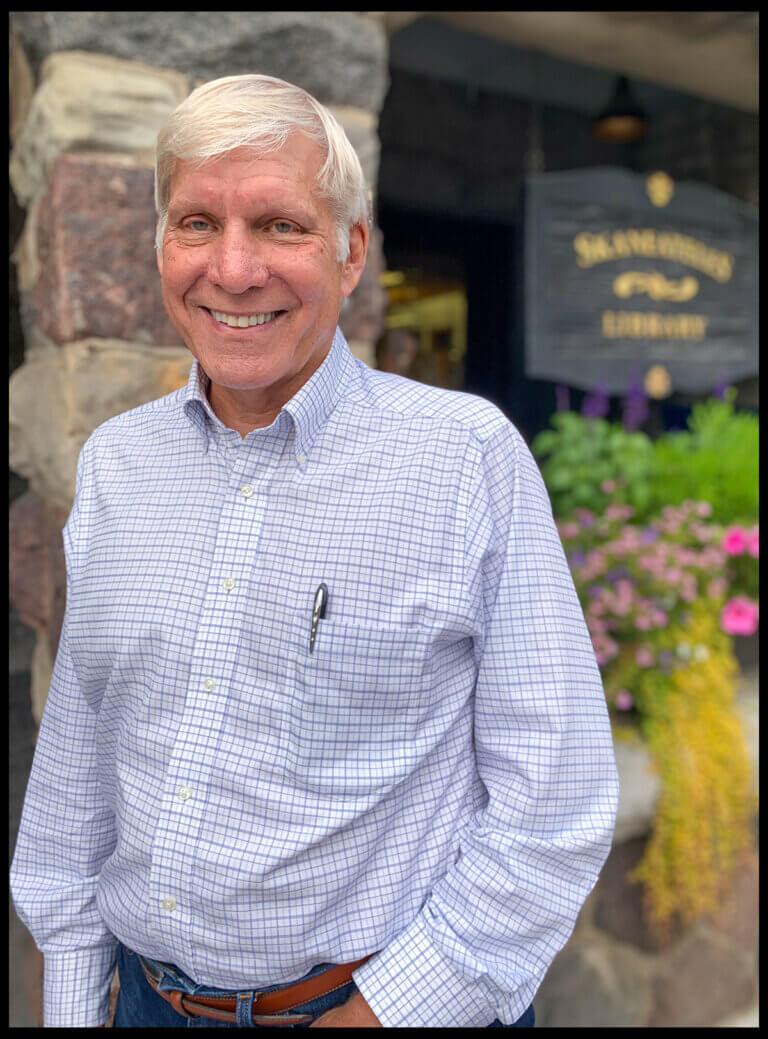 Dave Hempson
Dave joined the library board in 2018.
Dave left his original profession as a Skaneateles high school chemistry teacher to take on the challenges of a new and growing business, the Marietta Corporation. Over his 35-year career with Marietta, Dave held many roles with the company, starting as its director of quality assurance and also serving as the chief operations officer. Dave has a wealth of experience managing people and budgets, finding creative solutions to intricate problems, and leading projects to completion. Dave has long been an active participant in the community and served as the John D. Barrow Art Gallery Board president and Spafford Area Historical Society Board president. He is a past president of the library board.
Fun facts: Dave retired to live on beautiful Skaneateles Lake with his wife Karen, a retired SUNY Cortland lecturer, with their two daughters and four grandchildren in close proximity. Dave's main endeavor is to spoil the grandkids he adores.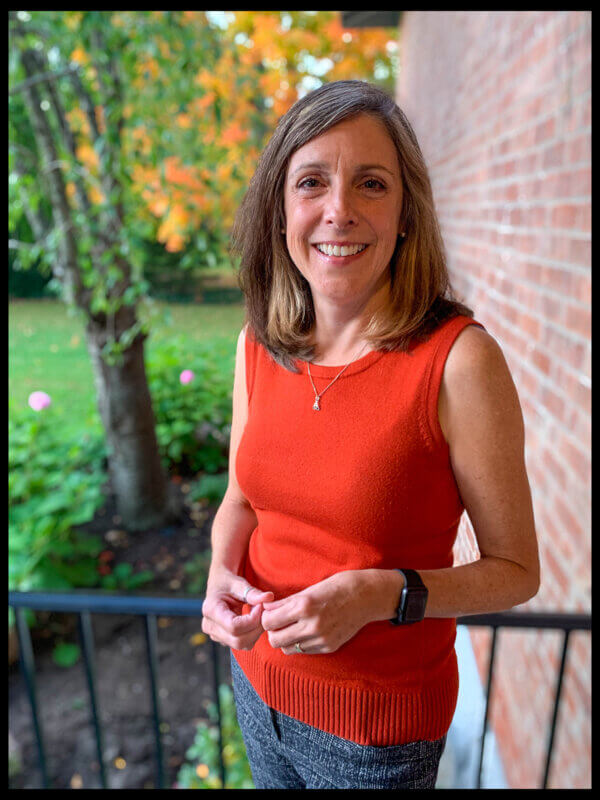 Maura Molnar
Treasurer
Finance Chair
Maura Molnar's Bio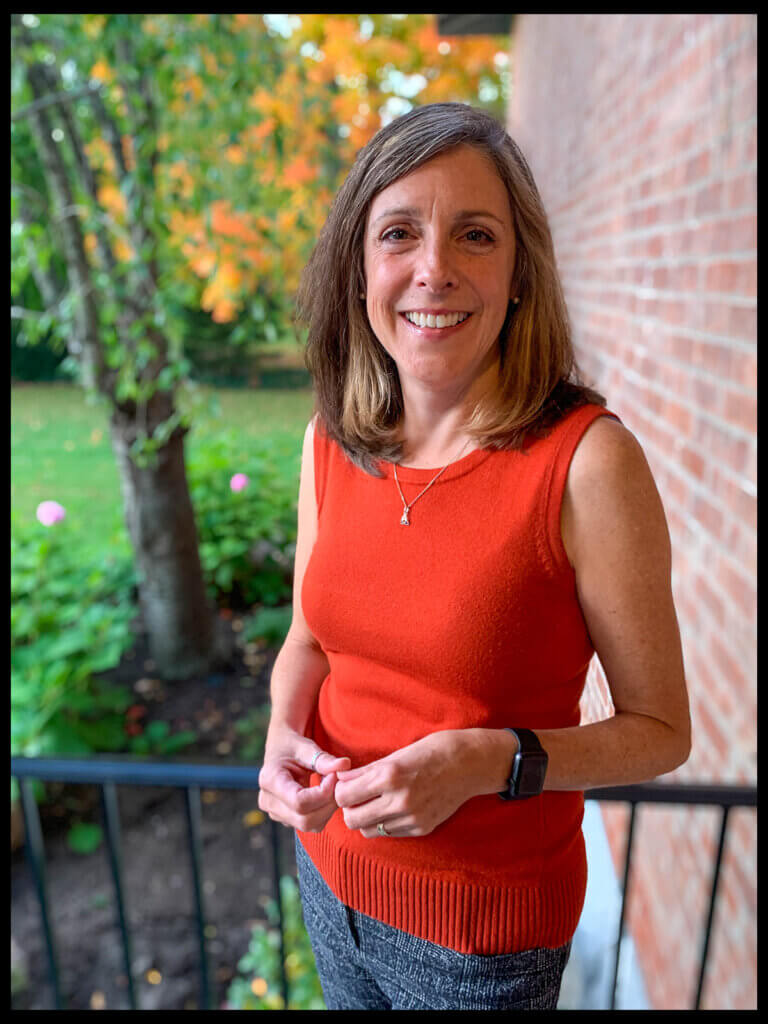 Maura Molnar
Maura joined the library board in 2020.
Maura graduated from LeMoyne College with a BS in accounting, becoming a CPA and spending over a decade as a senior audit manager with PwC. Most recently she has been the catechetical leader at St. Mary's of the Lake, creating and running their family and youth programs. Originally from New York's Hudson Valley, Maura has lived in Skaneateles for over 19 years. She has served as an officer at several nonprofits, including the Skaneateles Music Guild, Skaneateles Music Boosters, Skaneateles Football Boosters, all three PTCs, the LeMoyne College Alumni board, and several Syracuse-area agencies. She is also a member of the Barrow Management Committee.
Fun facts: Maura and husband Scott's third and youngest recently graduated from Skaneateles High. Maura is most likely to be found around water—on our beautiful lake, at the beach, hiking by a stream—or reading a book, of course.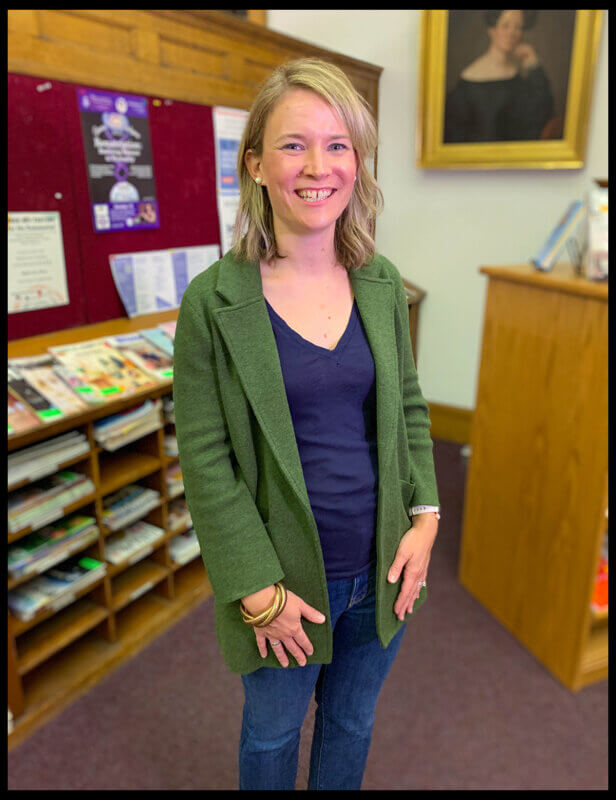 Meghann Sandak
Secretary
Communications
Meghann Sandak's Bio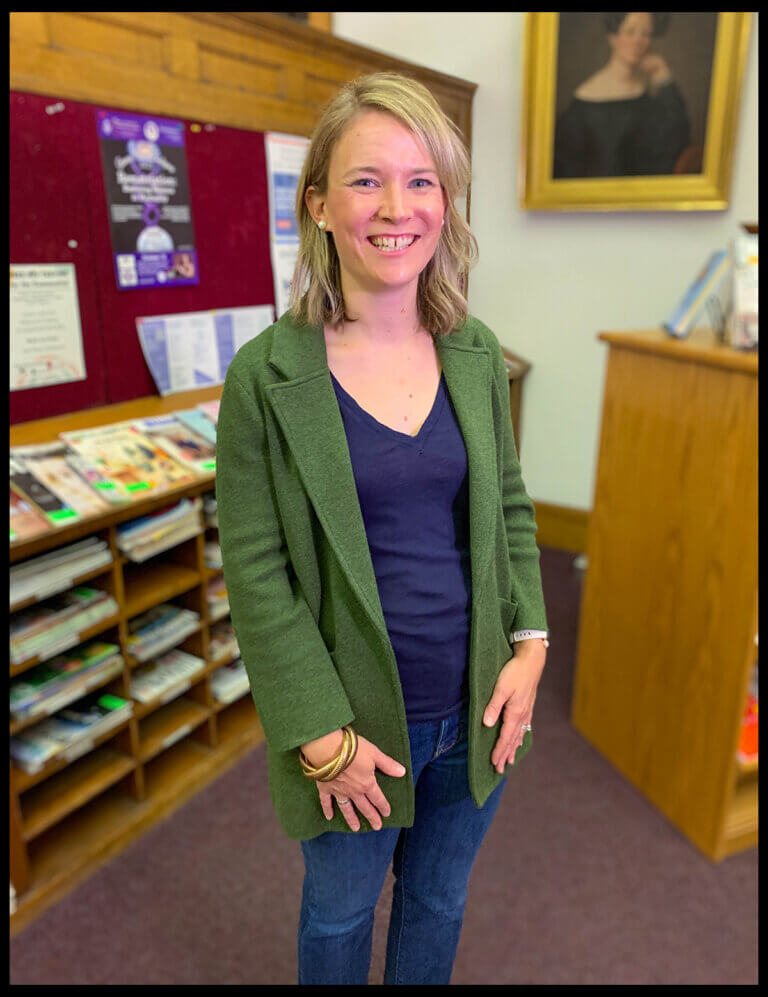 Meghann Sandak
Meghann joined the library board in April 2021.
Meghann earned undergraduate and graduate degrees from the University of Notre Dame. After serving as a middle school teacher through Notre Dame's Alliance for Catholic Education program, she continued teaching in the inner-city of Chicago before transitioning to the nonprofit sector. She eventually became chief education officer for Chicago's Daniel Murphy Scholarship Fund. Meghann is now the chief development officer for the United Way of Central New York. She is a graduate of neighboring Westhill High School, and has lived in Skaneateles for five years. Meghann also regularly visits Manchester, Vt. and has provided pictures and information about their new library. The positive impact of that new library facility has been nothing short of transformative for this small community.
Fun facts: A former world champion Irish dancer and collegiate sailor, Meghann now spends her free time with her family enjoying the area's diverse hiking trails, biking paths, and lakes, as well as the local ski slopes. She and her elementary school aged kids visit the library several times a week.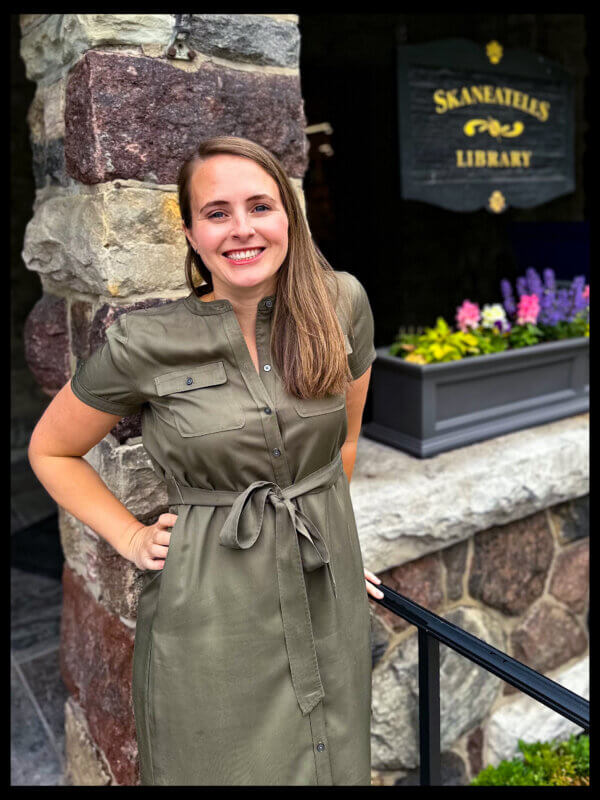 Katie Lee Armijo
Fundraising
Katie Lee Armijo's Bio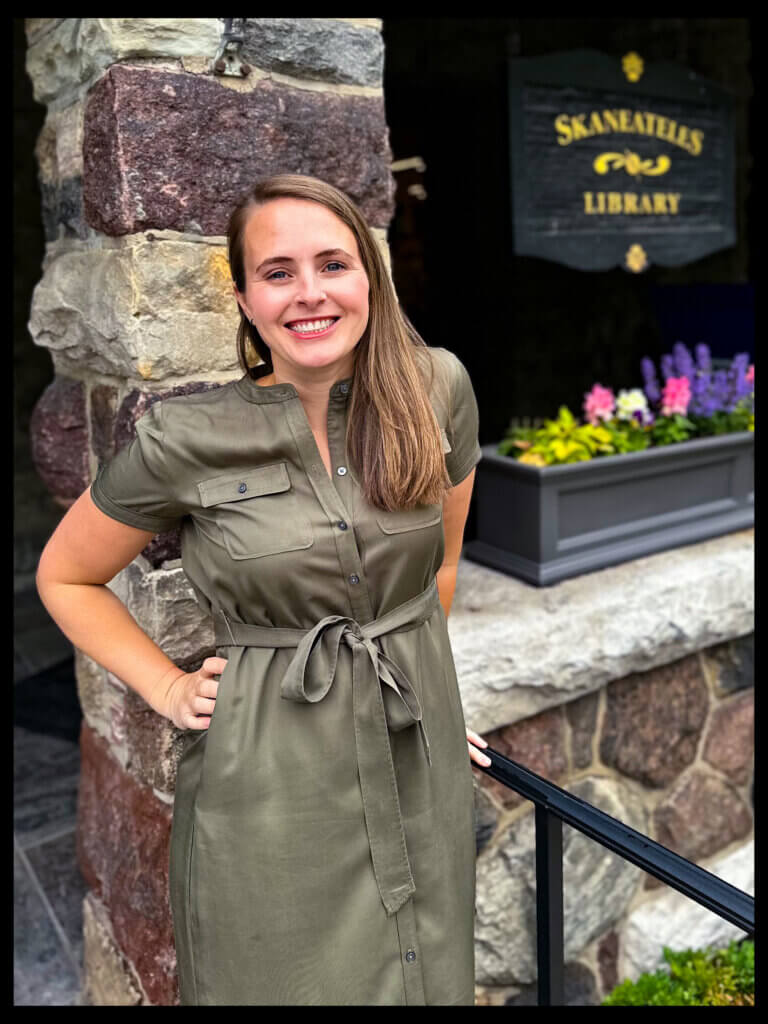 Katie Lee Armijo
Coming soon…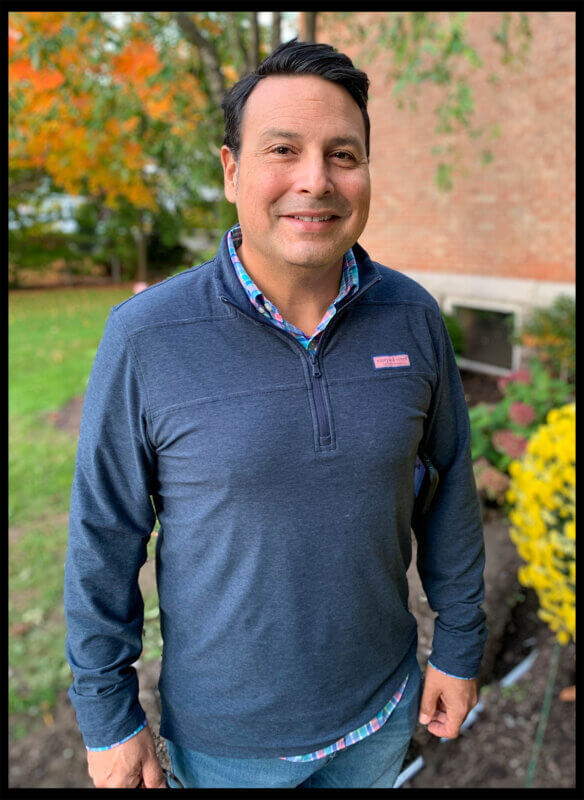 Manuel Arroyo
Current Building | New Building
Manuel Arroyo's Bio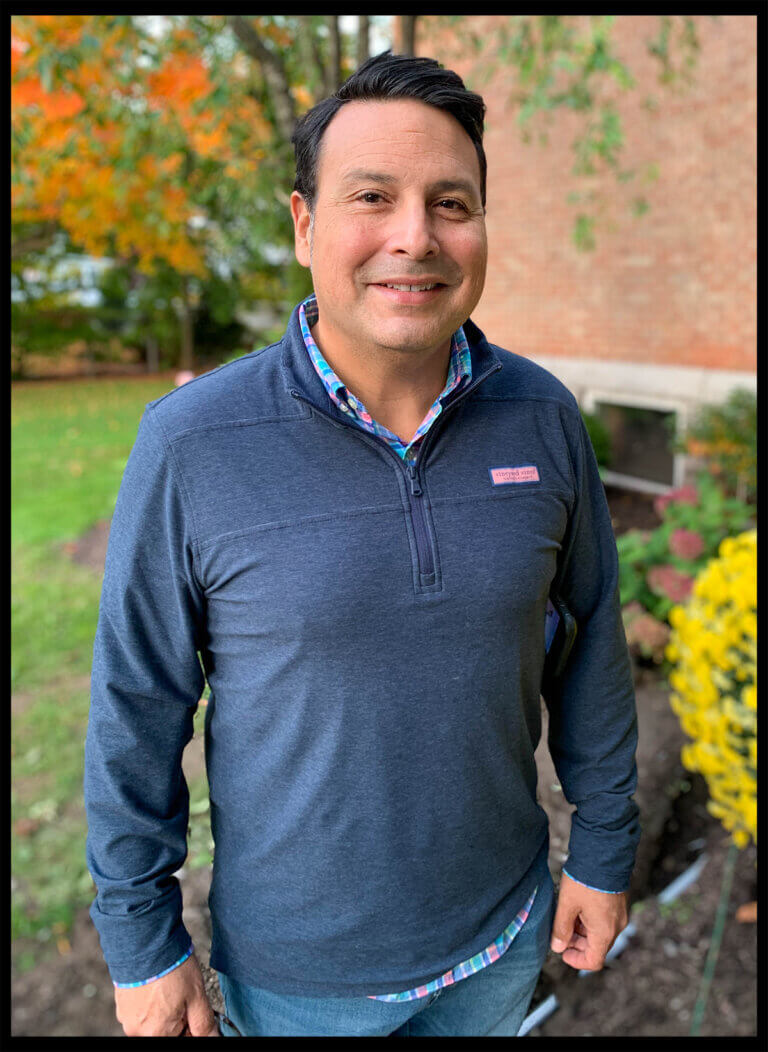 Manuel Arroyo
Manny joined the library board in 2019.
Manny brings to the library board an understanding of law and experience in business. He is a former commercial litigator, small business owner and high school history teacher who lives in Skaneateles with his wife and three children.
Manny has served on the boards of a soup kitchen organization, a charter school and a chamber of commerce. He enjoys dedicating time to his community and encourages his children to do the same. As a family, the Arroyos are active in various improvement initiatives to help the community center, the lake association and the Rescue Mission, as well as efforts to help those in need outside of our community.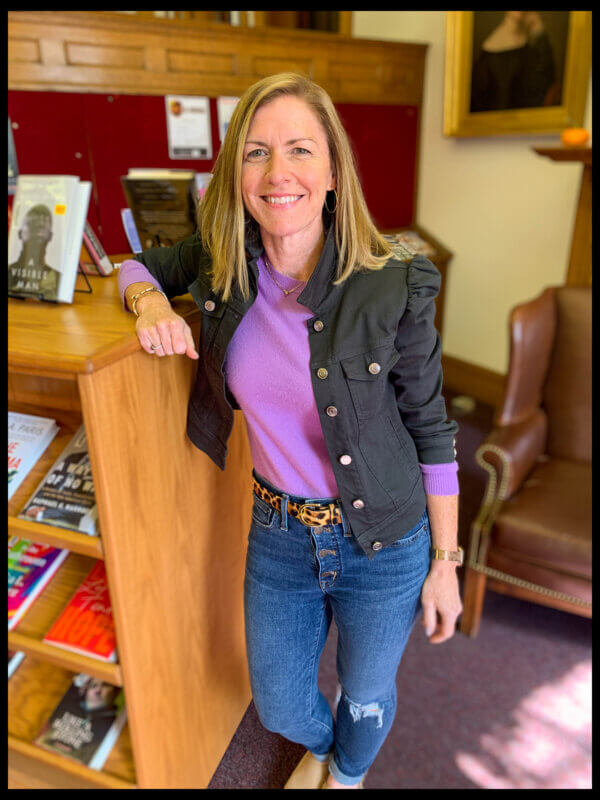 Karen Morrissey Bedard
Communications Co-Chair
Karen Morrissey Bedard's Bio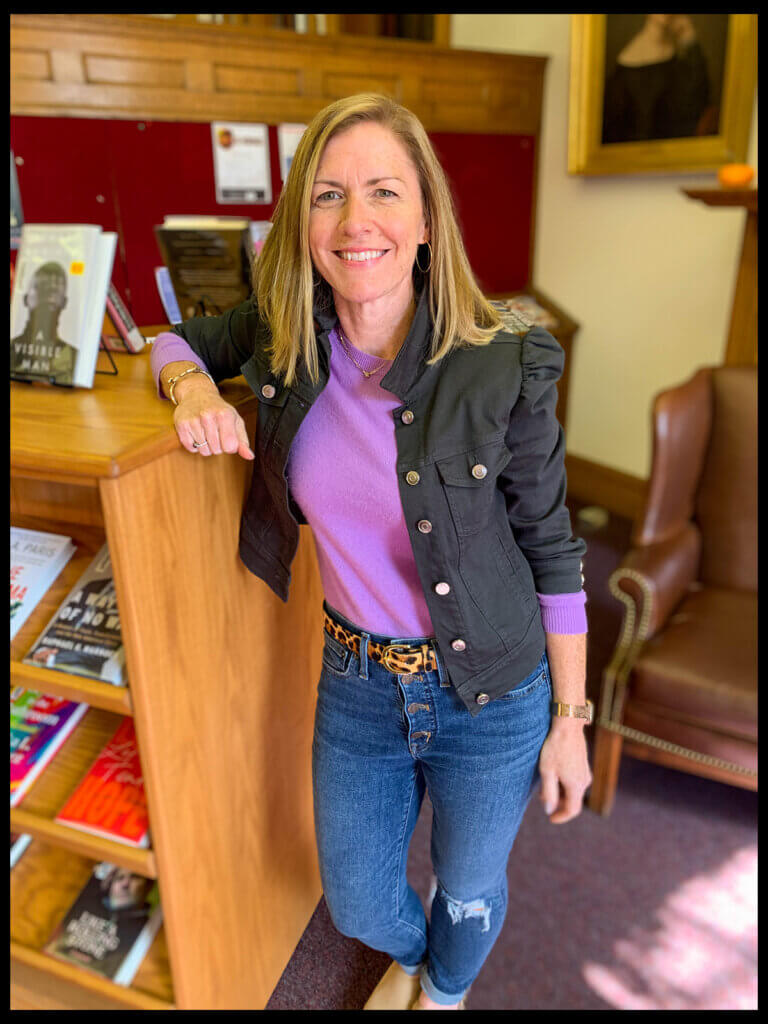 Karen Morrissey Bedard
Karen joined the library board in 2018.
Karen graduated from St. Lawrence University with a creative writing degree before spending 20 years in the Boston area working as a copywriter and creative director for a variety of large advertising firms. In 2019, Karen co-founded the marketing agency Three Needs Creative, which specializes in branding, creative strategy, and big-idea marketing campaigns. In true "once a Laker, always a Laker" spirit, the Skaneateles native moved back with her husband and two young children in 2016 to be closer to the many local Morrissey family members and enjoy a little lake life. Since returning, Karen has coached youth soccer and volunteered for the Art Masterpiece program at the elementary schools. Her kids love being Lakers.
Fun facts: Karen is the youngest of 10 Morrissey children, all born and raised in Skaneateles. Her mom, Judy, still lives in the village and her siblings Tom, Jerry, and Mary are all raising their families here as well. A couple of years ago, there was at least one Morrissey cousin in nearly every grade in Skaneateles schools.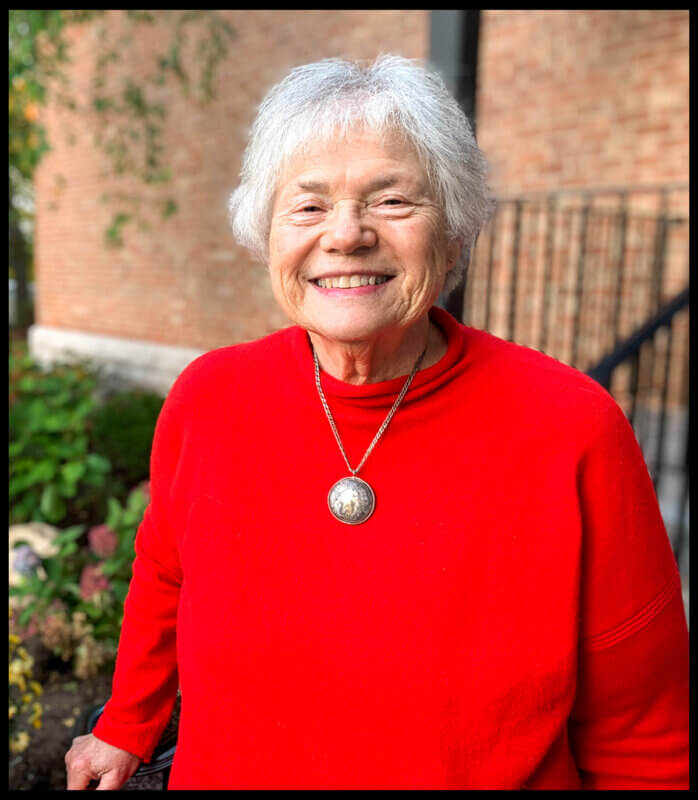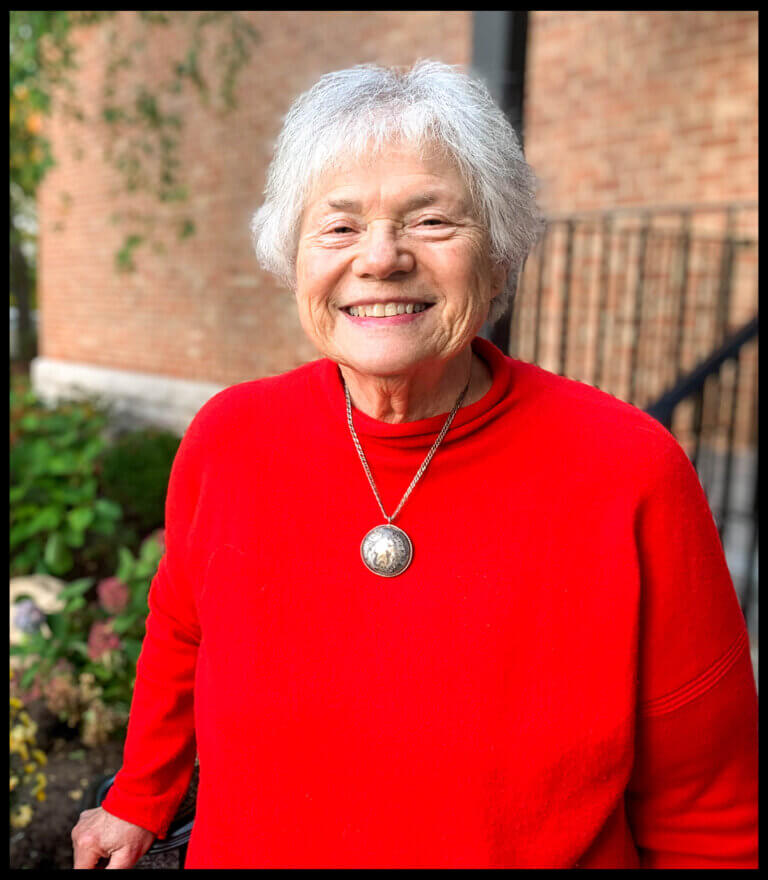 Kathryn Carlson
Communications | Fundraising
Kathryn Carlson's Bio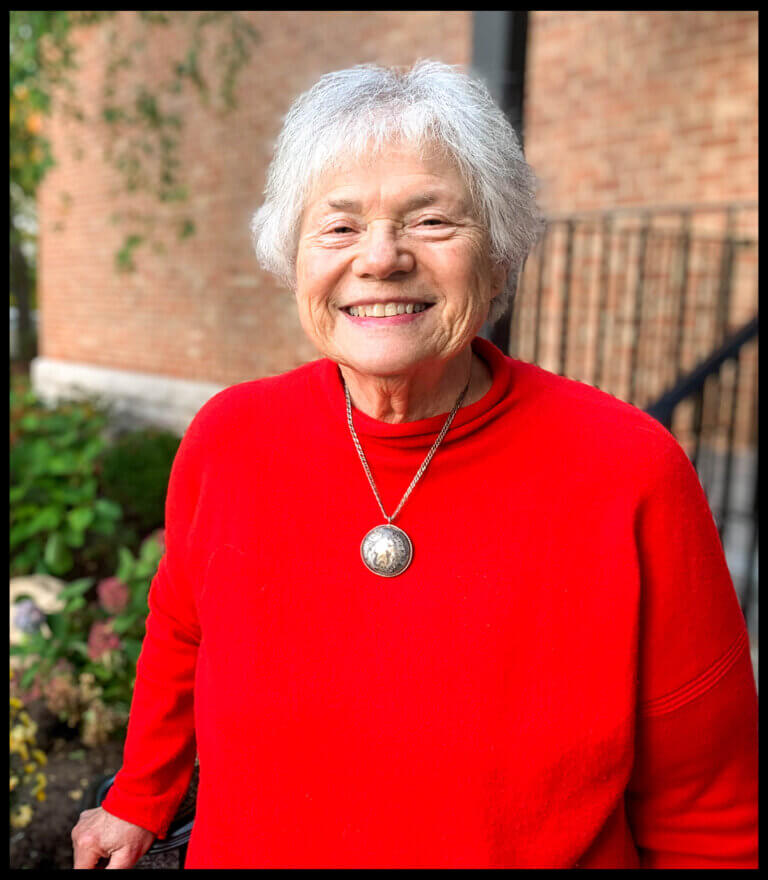 Kathryn Carlson
Kathryn joined the library board in 2022.
Kathryn is a retired assistant superintendent of the Skaneateles School District. She has a bachelor's from Cornell University, and a master of science in school psychology from Syracuse University. Kathryn has a certificate in Strategic Planning from the American Association of School Administrators and coordinated the self-evaluation for
the Empire State Advantage program that led to the Skaneateles School District receiving that coveted Governor's Award.
Kathryn has lived in Skaneateles since 1976. She has served as a member of SAVES, including as treasurer; was a member of the Todd's Fund Board of Directors; served as president of the Holy Trinity Preschool Board of Directors; and was a member of Holy Trinity Lutheran Church Council. She has also served on the Skaneateles Drug/Alcohol Task Force and the Skaneateles Education Foundation. Kathryn served on the Skaneateles Village Board of Trustees, and is a former president of the Skaneateles Board of Education and the Cayuga-Onondaga BOCES Board of Education. She is currently a member of the BOCES Policy and Health & Safety Committees and is a director of the Central New York School Boards Association.
Fun facts: Kathryn is the mother of two children and the grandmother of three. She loves to garden, read and write, paint, cook, and bake. She has a cabin in Alaska and loves to spend time in solitude in that lovely place. She and her dog Snoopi can often be found walking the streets of her beloved Skaneateles.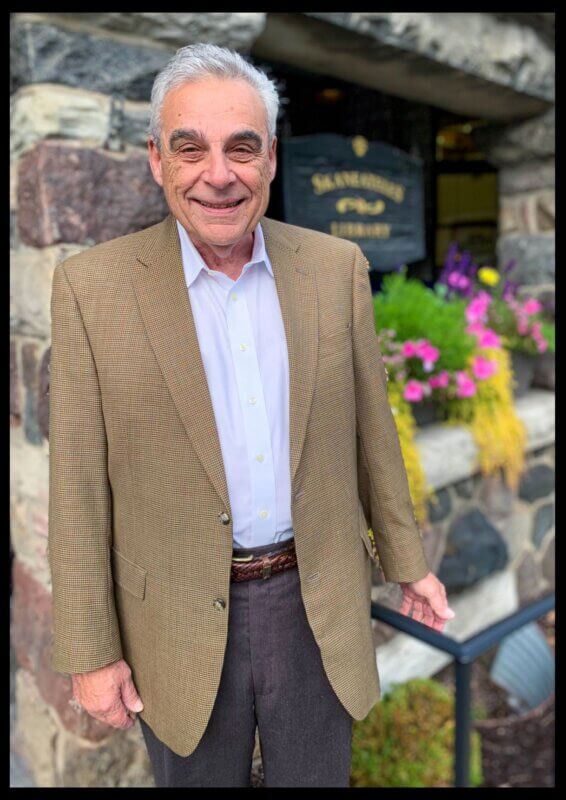 Ralph DeMasi
Current Building | New Building
Ralph DeMasi's Bio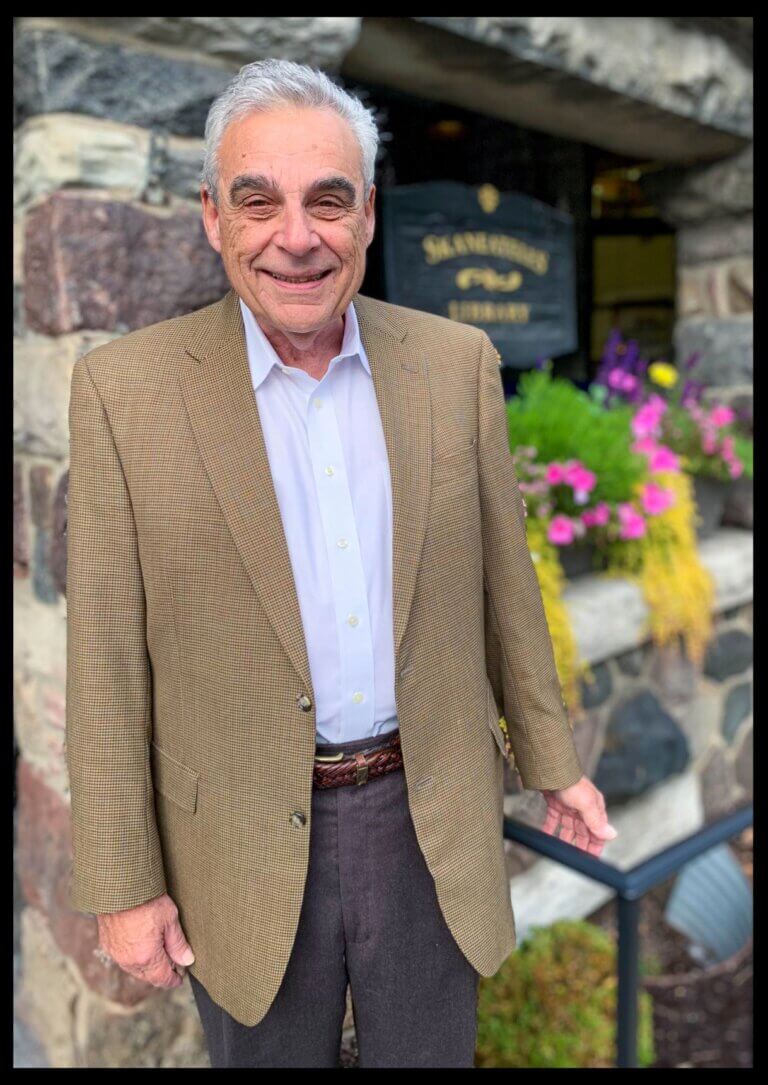 Ralph DeMasi
Ralph joined the board in 2020.
An over 30 year resident of the area, Ralph brings a richly diverse background to the board and is currently a practicing attorney. Prior to being an attorney, a career he didn't pursue until his 50's (graduating with honors), Ralph was an entrepreneur and owned several businesses in the building and building inspection industry. Prior to that he worked in industrial sales for a Fortune 500 company.
Fun Facts: Ralph owned the first home inspection company in the Syracuse area. He still loves, in his own words, to "rip houses apart and put them back together". He and his wife have owned at least 11 houses in their 36 years of marriage. Ralph has always had a strong attachment to books and reading. When he was 4 years old, he ran away, causing panic at home, only to be found at the library.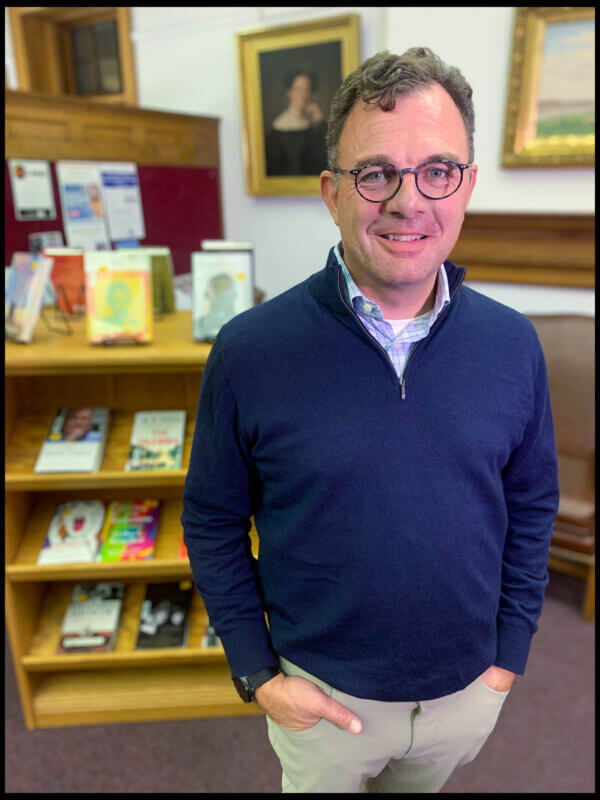 Andrew Hagen
Fundraising Chair
Andrew Hagen's Bio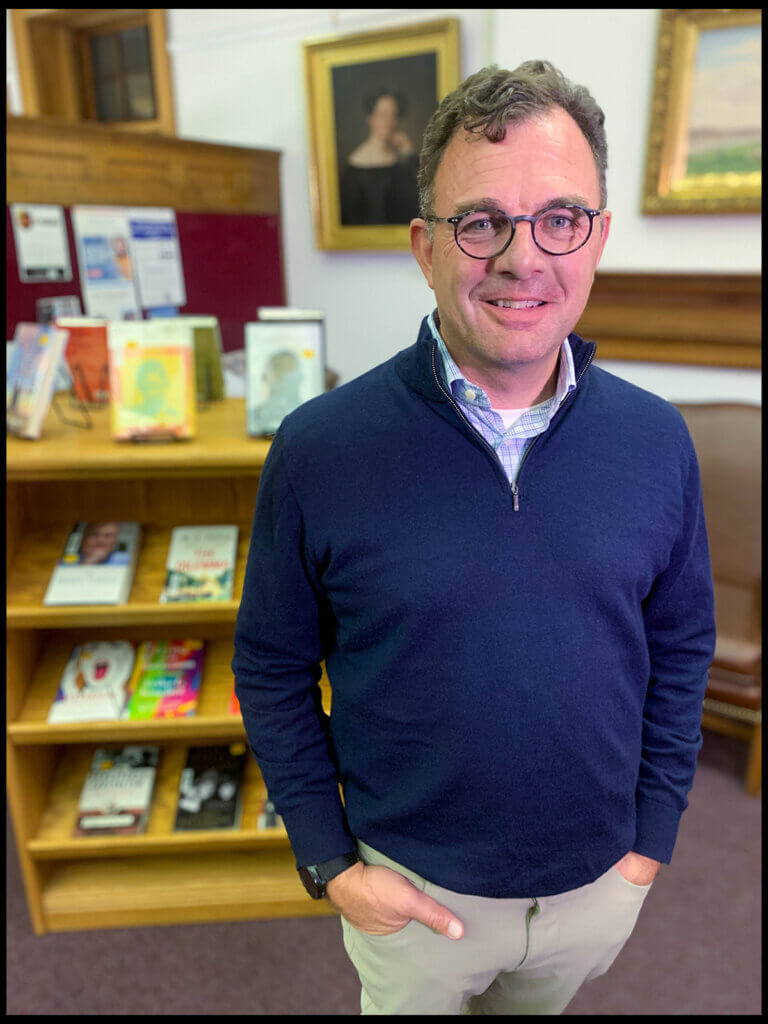 Andrew Hagen
Andrew joined the library board in 2016.
Originally from Western New York, Andrew graduated from Le Moyne College in 1993 with a bachelor of science in business administration and never left town. He became an Equitable financial advisor shortly after college and has continued with the same firm for over 20 years. Andrew and his family moved from Syracuse to Skaneateles nine years ago, and three of his four children have graduated as Lakers, with one to go. In addition to being on the library board, Andrew has coached youth soccer, and he and his family are parishioners of St. Mary's of the Lake Church.
Fun facts: Andrew recently relocated his office to the Village and often walks to work with his Sheepdoodle puppy, Stanley. In warmer months you might find him on the lake on a boat or paddle board. Friday night is pizza night at his family's house, and they often use Andrew's homemade dough for the crust!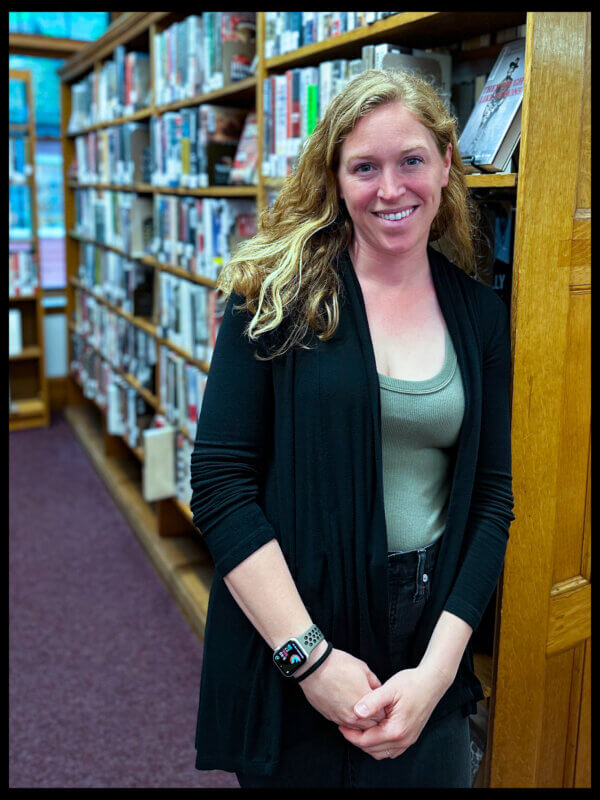 Kristin LaBeau
New Building
Kristin LaBeau's Bio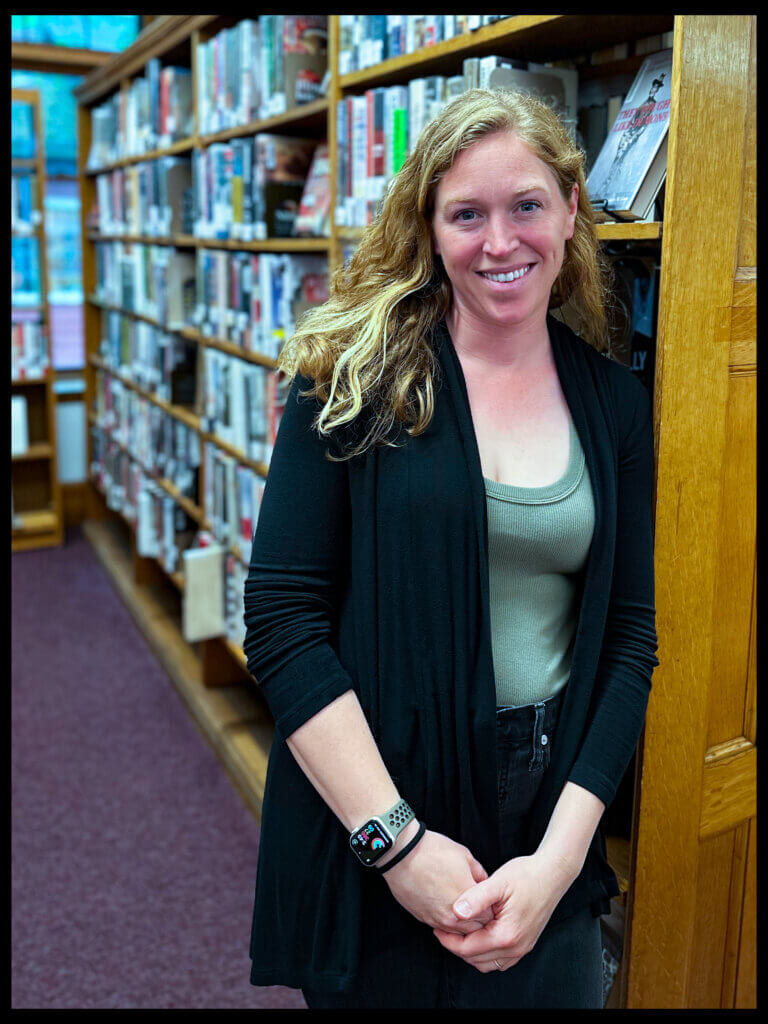 Kristin LaBeau
Coming soon…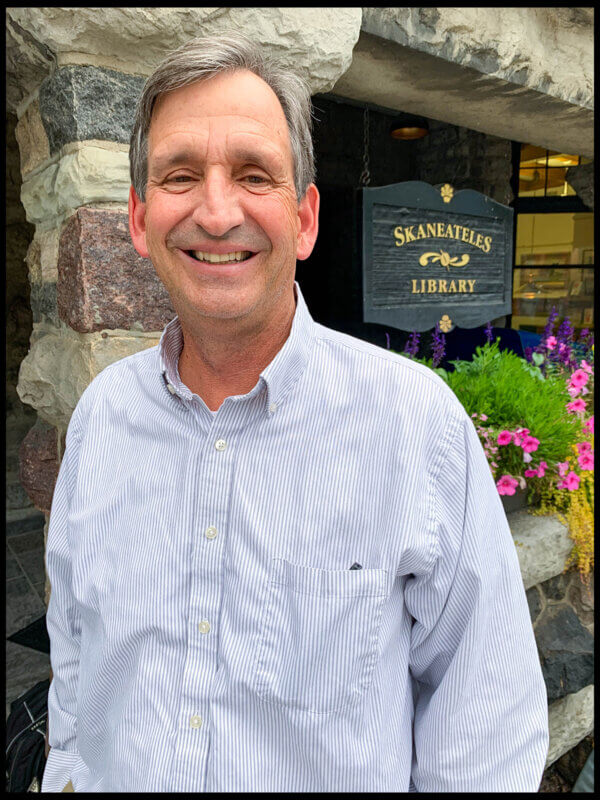 Bob Lotkowictz
Current Building | New Building
Bob Lotkowictz's Bio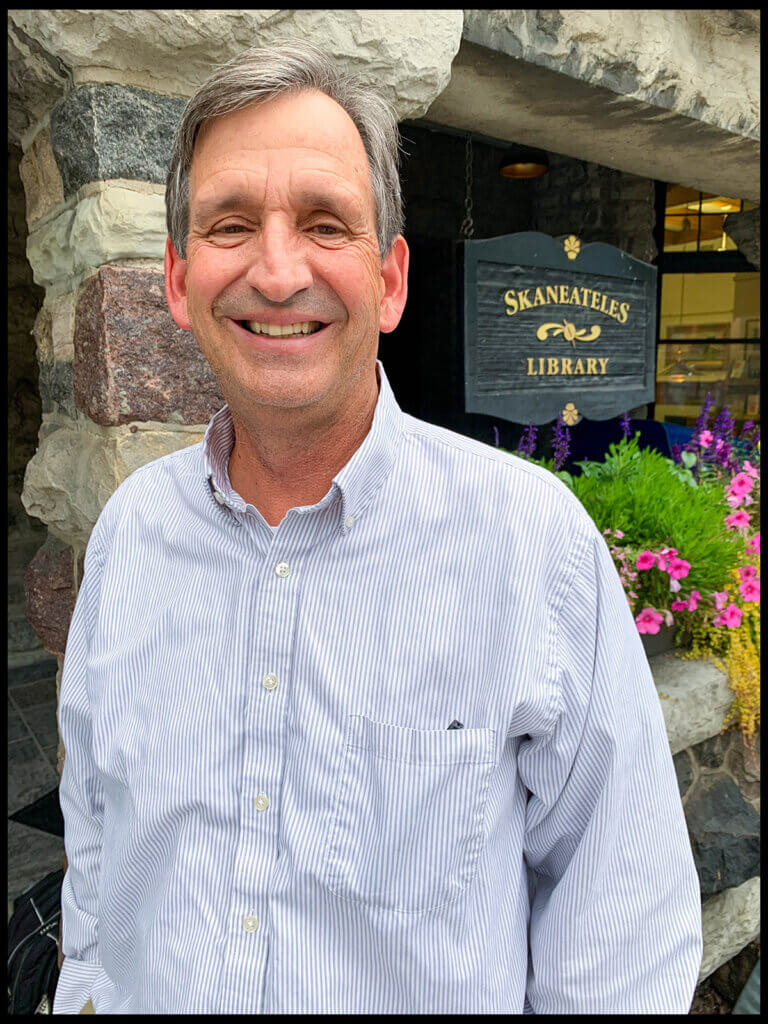 Bob Lotkowictz
Bob joined the board in 2013.
After earning degrees from Cornell and the University of Maryland, Bob started his career in Facilities Management in the Washington, DC area. He has worked in several areas of facilities management including manufacturing, municipal operations, academia, and now healthcare where he is currently the VP of Facilities for Auburn Community Hospital. Bob and his family moved to Skaneateles in 1990 and have been enjoying all that the Finger Lakes has to offer. He has coached youth sports and had been a member of the local Town planning board for 15 years.
Fun Facts: Bob and his wife enjoy all that "Lake Life" has to offer including cycling, motor boating, sailing and swimming. He also loves spending time with his family that lives both locally and afar.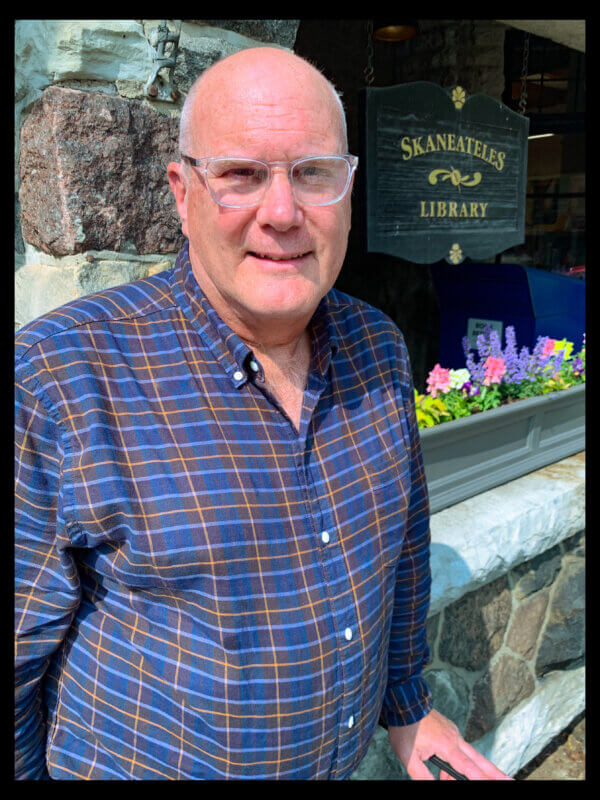 Steven McClintic
Finance
Steven McClintic's Bio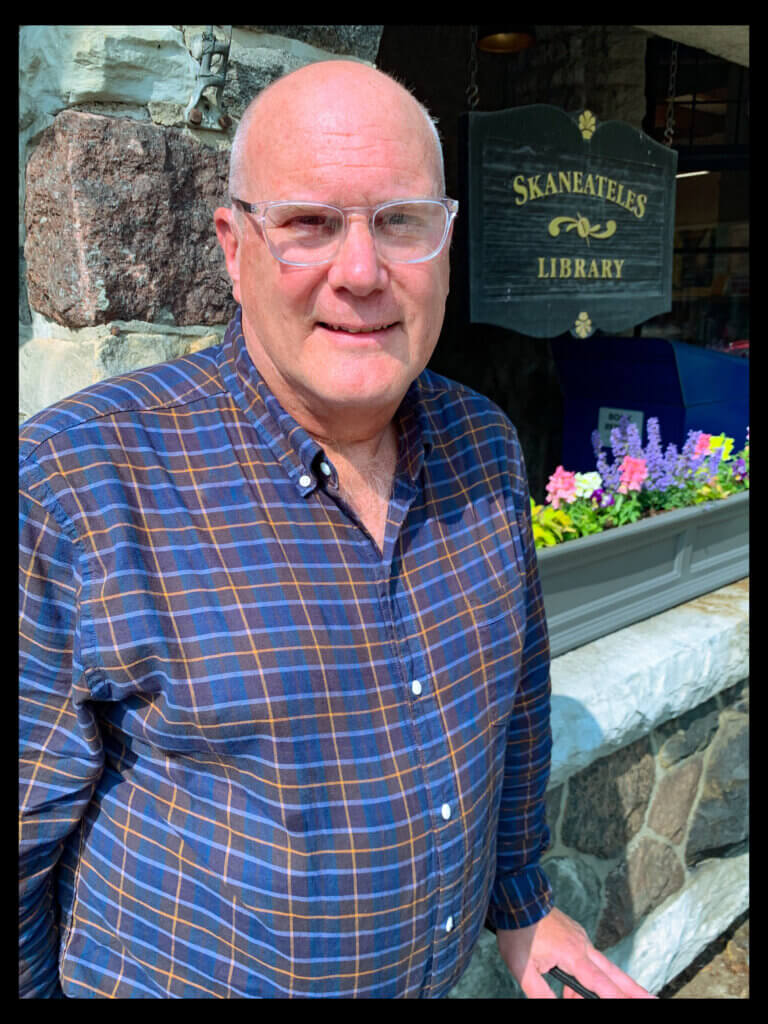 Steven McClintic
Coming soon…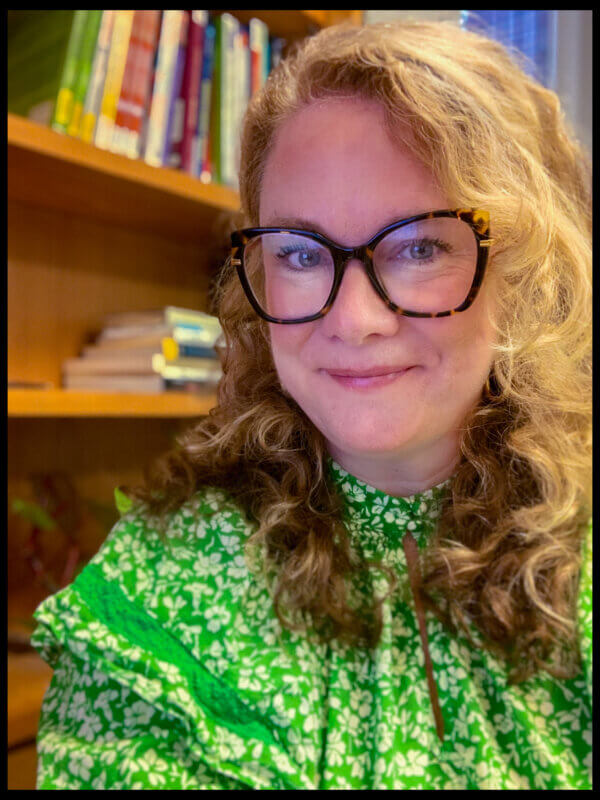 Erin McCormack
Communications Co-Chair | Fundraising
Erin McCormack's Bio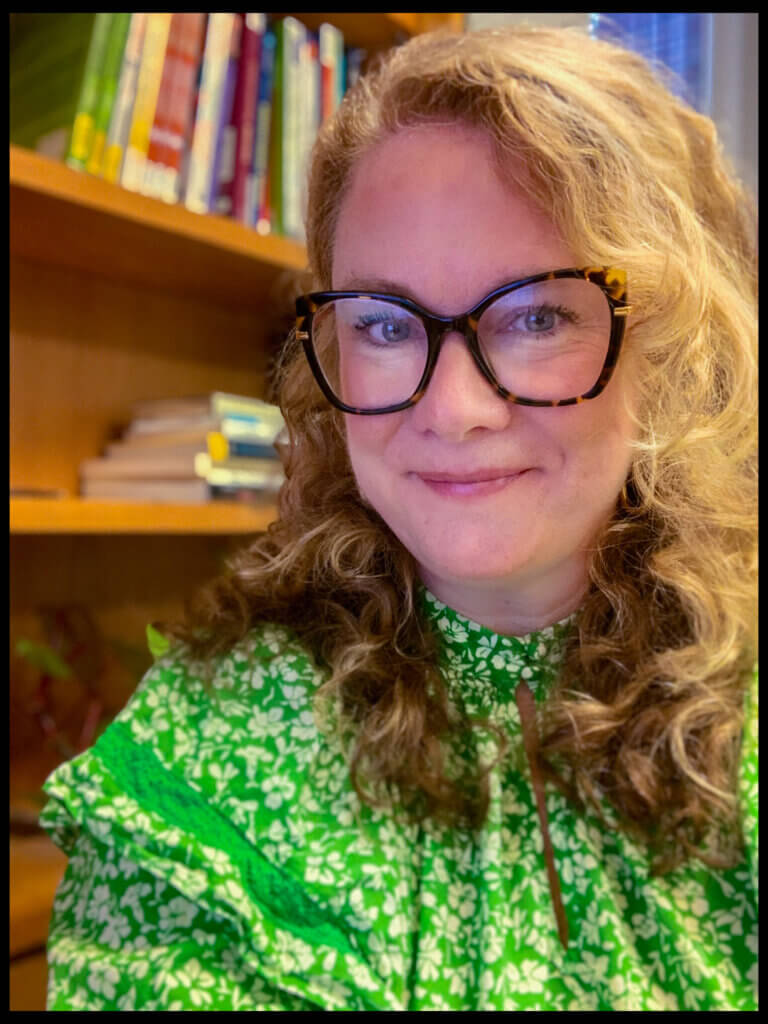 Erin McCormack
Erin joined the library board in 2022.
Erin is an Emmy Award–winning producer who has worked in film, television, and online media creation for almost 20 years in Los Angeles, San Francisco, and New York. She is a graduate of Rollins College, the S.I. Newhouse School of Communications at Syracuse University, and the UCLA Film Studies workshop. She is currently the assistant vice president and executive producer at the PBS affiliate WXXI Public Media in Rochester, where she is responsible for creative development, production, and distribution. She is also the project manager for the Move to Include Golisano Foundation grant initiative, which leverages public media platforms to promote disability awareness and inclusion. Erin grew up in Skaneateles and graduated from SCS. In addition to the library board, she is currently part of the Skaneateles Educational Foundation Board, where she leads the Alumni Committee. She assists with theater and film programs at the Skaneateles Middle School, Auburn Public Theater, and Tiffany's School of Dance and Performing Arts.
Fun facts: Erin has a daughter going into eighth grade whose favorite place in Skaneateles is the library and whose favorite event is the Library Book Sale!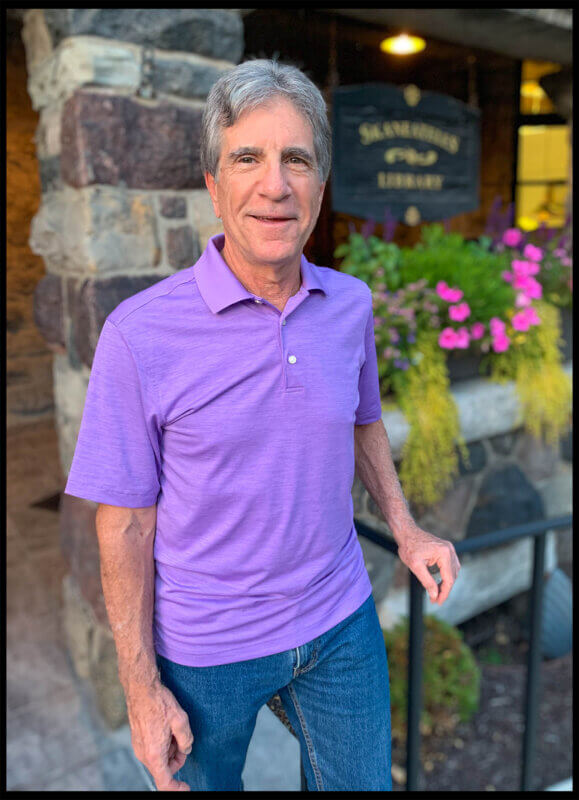 Larry Palmieri
Finance | Fundraising
Larry Palmieri's Bio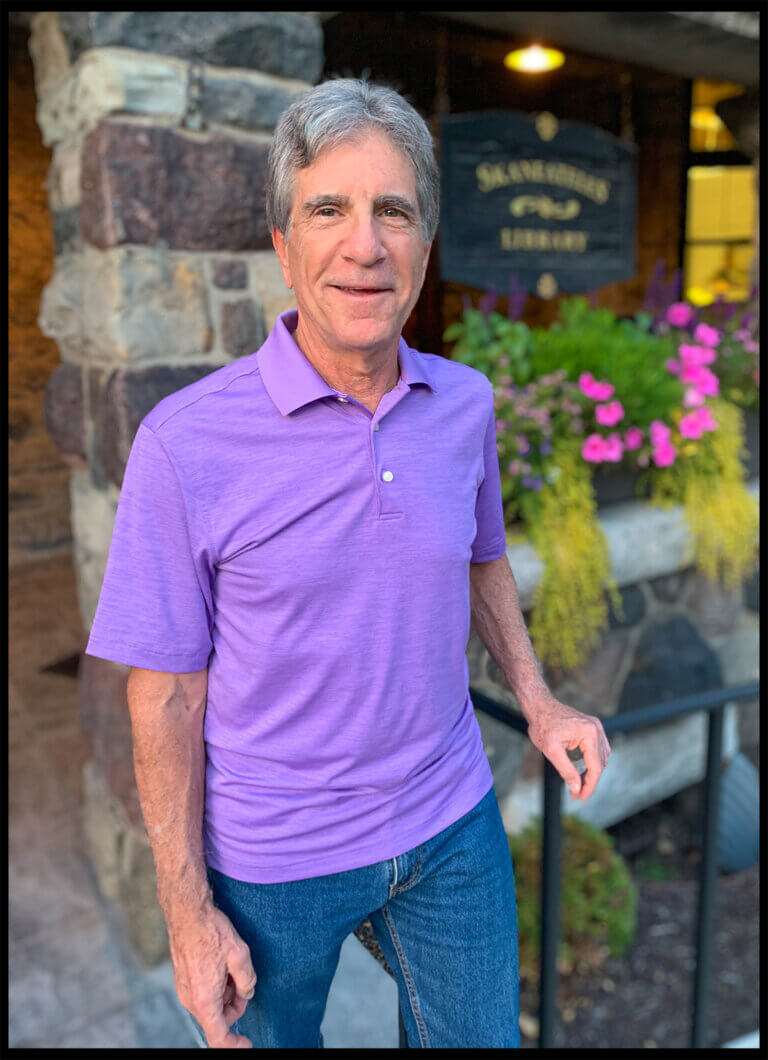 Larry Palmieri
Larry joined the library board in 2019.
Originally trained as a cytotechnologist, Larry worked in hospital anatomical pathology labs for eight years. For the rest of his professional career he managed physician group private practices, retiring from Retina-Vitreous Surgeons of CNY in 2017. A Skaneateles resident for over 30 years, Larry has been regularly donating platelets to the Red Cross for decades. He has been a three-plus-term board member of, and active fundraiser for, Samaritan Center, and has coached Lakeshore baseball.
Fun facts: Larry considers himself too old to play tennis and squash, but is addicted to pickleball. He loves live music but couldn't carry a tune in his briefcase. Larry took second place in a Mick Jagger dance contest at Nectars in Burlington, Vermont.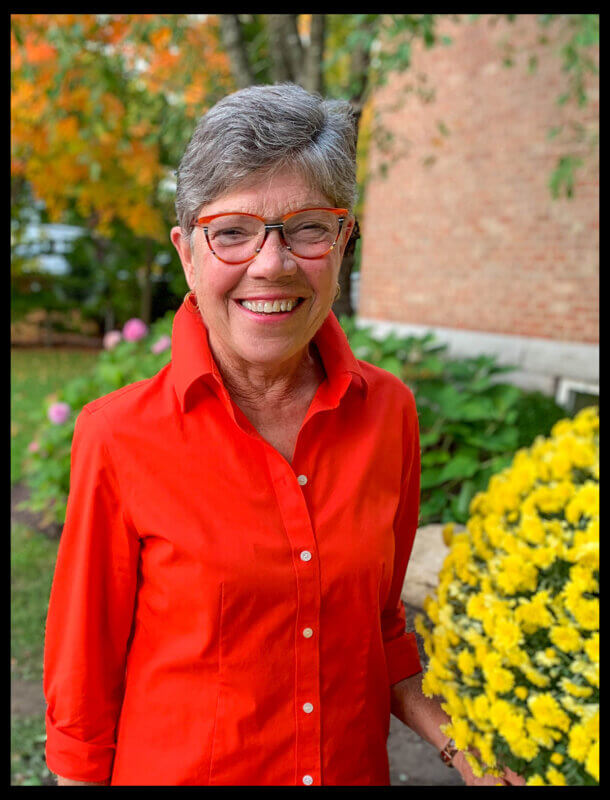 Amy Rolleri
Barrow Gallery Liaison
Amy Rolleri's Bio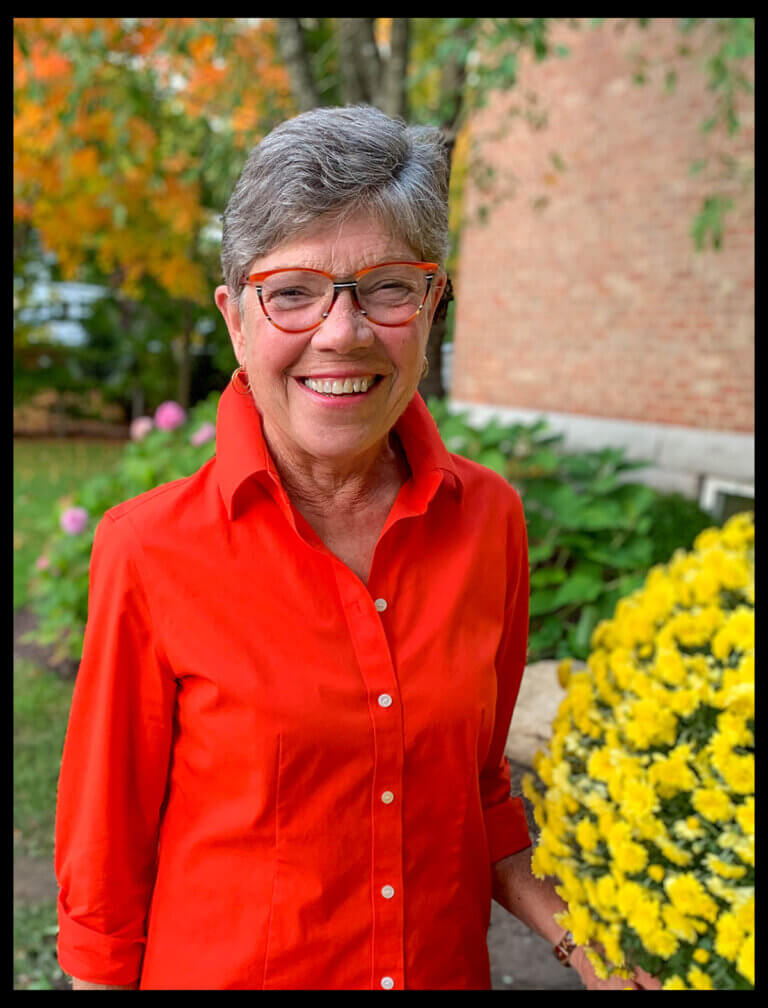 Amy Rolleri
Amy joined the library board in 2019. 
Amy earned college degrees in art, reading, and school administration. She taught grades three through 12 in public schools over 35 years, including six years at State Street Elementary School, as well as the West Coast and Georgia. She ended her professional career as a teacher educator at the University of Georgia, just prior to moving back to Skaneateles. Amy is a native of Skaneateles and a graduate of Skaneateles High School. She serves on the boards of the YMCA and the John D. Barrow Art Gallery, and is active in fundraising for both groups. She is the membership chair for the Skaneateles Garden Club and the lead organizer for the Skaneateles Transfer Station Swap Shop.
Fun facts: A fitness nut, Amy works out at the Y—including yoga, spinning, and weights—"all the time." Her daughter was a competitive runner throughout high school and college, and now two of Amy's grandchildren are following in their mother's and grandmother's footsteps as runners.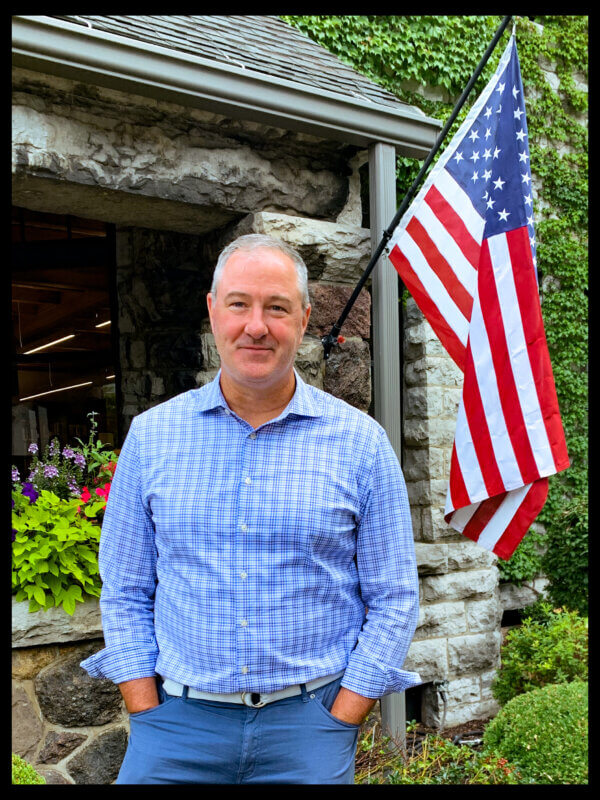 Stephen Thomas
Fundraising
Stephen Thomas's Bio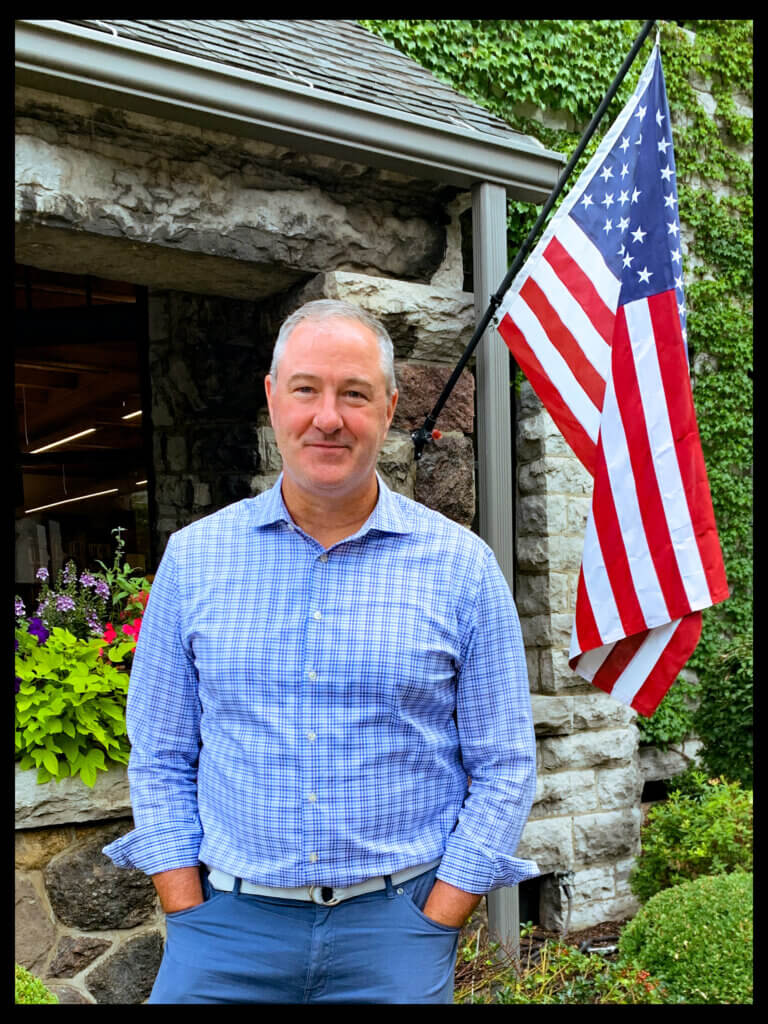 Stephen Thomas
Coming soon…