Library Tax Levy Ballot Proposition
The library is requesting a 4% ($14,560) increase to its annual tax levy during the school district budget vote to be held at the district office on Tuesday, May 16, 2023 from 7:00 AM to 9:00 PM.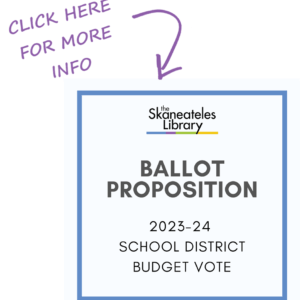 When voters go to the polls to vote on the Skaneateles School District budget, they will also be asked to vote on a proposed tax levy increase for the Skaneateles Library. The school district and library budgets are separate and unrelated; however, state law provides libraries the ability to receive support from their local communities by placing a funding proposition on a school district ballot.
The library's ballot proposition requests a 4% increase in public funding for its operational budget to offset increases in expenses. The requested increase in dollars is $14,560, raising the current $364,000 annual levy to $378,560 – an increase of less than $3 for a home valued at $400,000. These funds will help support the library's services and are not intended for use in capital projects.
If the proposed 4 percent increase is approved, the library's annual levy would increase from $364,000 to $378,560. A homeowner with a house assessed at $200,000 would see an annual increase of $1.49. Someone with a home assessed at $400,000 would see an increase of $2.98 per year.
Please contact library director Nickie Marquis at 315-685-5135 or nickie@skanlibrary.org with any questions or information needs.
---
Frequently Asked Questions