Library Tax Levy Ballot Proposition
The library is requesting a 4% ($14,000) increase to its annual tax levy during the school district budget vote to be held at the district office on Tuesday, May 17, 2022 from 7:00 AM to 9:00 PM.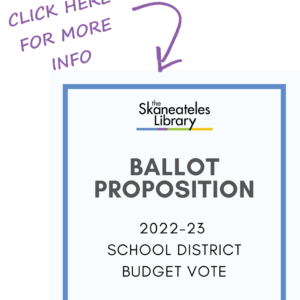 When voters go to the polls to elect school board members and to vote on the Skaneateles School District budget, they will also be asked to vote on a proposed tax levy increase for the Skaneateles Library. The school district and library budgets are separate and unrelated; however, state law provides libraries the ability to receive support from their local communities by placing a funding proposition on a school district ballot.
The library's ballot proposition asks for a 4 percent increase to the annual tax levy, which is the first proposed increase since the library started receiving public funds in 2016. Before voters approved the annual levy in 2016, Skaneateles was one of only two libraries in the state that did not receive any public funds.
If the proposed 4 percent increase is approved, the library's annual levy would increase from $350,000 to $364,000. A homeowner with a house assessed at $200,000 would see an annual increase of $1.48. Someone with a home assessed at $400,000 would see an increase of $2.96 per year.
Please contact library director Nickie Marquis at 315-685-5135 or nickie@skanlibrary.org with any questions or information needs.
---
Frequently Asked Questions