Shared Vision for a Transformational Community Project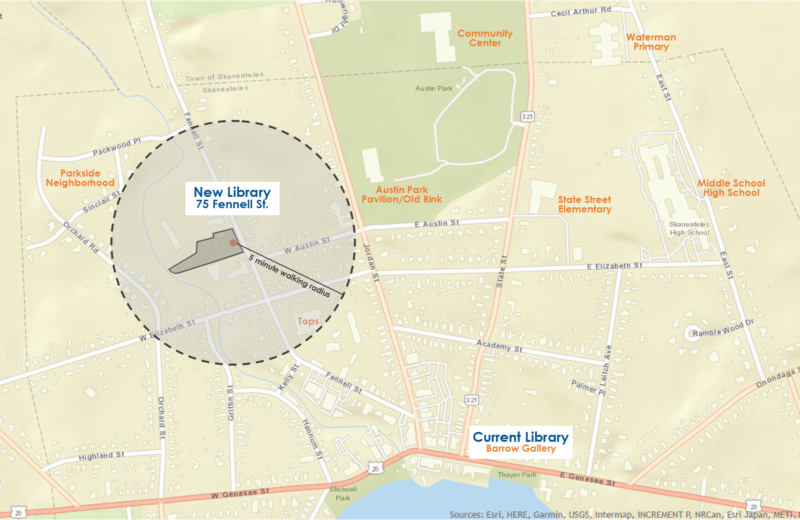 The Skaneateles Library Board of Trustees is planning for the library's future by building a new library at 75 Fennell Street.
Following years of research and community input, our vision is to build a flexible, accessible library with spaces and resources that support and anticipate the ever-evolving learning, working and social needs of the broader Skaneateles community:
Dedicated parking for library users
Completely accessible and ADA compliant
Collections and resources for every stage of life
Wide, wheelchair- and stroller-friendly aisles
Modern, robust tech infrastructure
Flexible, multi-use programming spaces
Small café (by popular demand!)
Inspiring, stimulating spaces for kids and families
Private and semi-private study/work rooms
Inviting spaces for tweens and teens
Outdoor meeting and reading spaces
The new Fennell Street library will be connected to the local commercial corridor and walkable for those within the village limits, while allowing for dedicated parking for all library users. Not only will this transformational project create a flexible, accessible, welcoming library for the community, it will also beautify the 2.14 acre property along Skaneateles Creek.
Values Guiding Our Work:
Serving 9,000 residents in the Skaneateles School District, the library is an inclusive space where individuals and groups come to engage in activities, programs and resources that enhance their lives.
We are working to realize our vision to be the cultural and informational hub of our vibrant, thriving community by creating spaces and experiences that are:
Welcoming
Comfortable, accessible, functional space; the community's living room
Accommodate users' various space needs: quiet and loud, solitary and social, learning and teaching
Fully ADA compliant building and property
Enriching
Collections and services that support learning, creativity and fun for all members of the community
Programs for all ages that reflect current interests and exploration of new ideas
Forums for local organizations through collaborative programs and meeting spaces
Sustainable
Flexible spaces that allow for change in future services and needs
Efficient staffing and building systems for stable operational costs and long-term financial health
Practices, materials and systems that protect the environment, our collections, staff and patrons